All in one chemical dosing unit and Screw Press for sludge dewatering machine
Seller

Shanghai Fuchan Machinery Technology Co., Ltd.

Min. Order

1 Set/Sets

FOB Price

US $5970.00-7980.00
Product Description
Company profile
Shanghai Fuchan Machinery Technology Co.,Ltd.the flagship company was established in 2007,focus on one-stop Water & Wastewater treatment equipments and Separation Service Environment. The leading supplier of Screw press , Plate filter press ,Belt Filter Press ,Belt /Rotary Sludge Thickener ,Polymer Dosing Unit ,DAF , Sludge Dryer and Different kinds of Pumps and so on . Having a turnover in excess of USD 12 millions.
SFC Sludge Dehydrator Screw Press Details (SFC )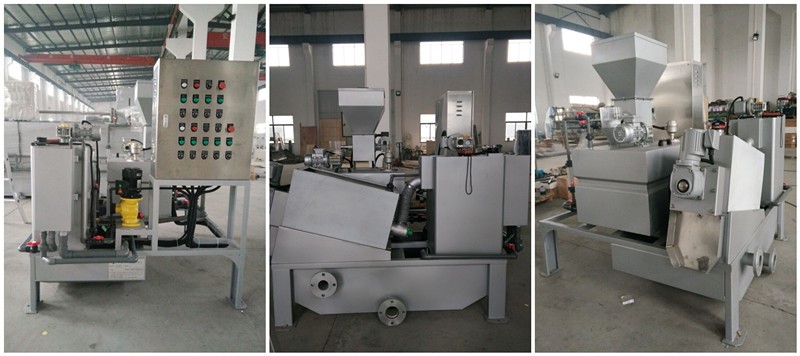 SFC Sludge Dehydrator Screw Press mechanism
Layers of the spacers ,which are fixed and Moving Rings,are secured in place by a tie rod. The inner diameters of the moving rings are slightly smaller than the outer diameter of the screw and their rings.Mobilized by the screw ,it continuously clean the sludge out of the gaps ,therefore,preventing clogging.
1. The condtioned sludge flows into the filter chamber from the flocculation tank and is pushed forward the discharging end .
2. With the gap between the thread of the shaft is getting higher and higher.
Then the water is separated from the sludge and flows out from the gap between the movings and the fixed rings.
3. The movement of the moving rings the fixed rings cleans the gap between them and prevent the machine from blockage.
4. The filtered sludge cakes are pushed forward by the shaft and finally discharged from the end.
SFC Sludge Dehydrator Screw Press specification and datasheet
SFC Sludge Dehydrator Screw Press Layout Drawing
SFC Sludge Dehydrator Screw Press Superiority (SFC )
* Wide application range
Exclusive pre-concentration design , applicable sludge concentration of 200mg/L~50000mg/L Due to innovation of the structure design .Highly suitable to various high and low concentration sludge most especially the oily ones . Widely application range including municipal sewage ,food wastewater,slaughter house ,printing and dyeing, oil chemical industry, paper making ,leather ,pharmacy and other different kinds of sludge dewatering .
* Small foot print
SFC Screw Press can be installed in places where placement would not be possible with other technology . What makes SFC Screw Press suitable to cutomers who are considering the replacement of existing sludge dewatering unit .
* No blocking :
Due to the moving of the fixed rings and moving rings self -cleaning .The ubiquitous clogging is avoided .Handing oily sludge without trouble while separating the water from the sludge easily . Above all , no need large quantiry of flushing water and no odor ,no secondary pollution during the sludge dewatering process .
* Running cost saving
SFC Screw Press relles on the inner pressure of the filter chamber and the rotating speed is as slow as 2~4rpm. The average unit power consumption is only 0.1~0.01kwh/kg-DS(1/8 of Belt Filter Press and 1/20 of Centrifuge) . Greatly reduce the running cost of wastewater treatment system .
* Fully automatic control
SFC Screw Press equipped without device like filter clothes or filter pore that easy blocked .Operation so easily and can be set to operate automatically via the eletric control cabinet .
*Super resistance to oily sludge
Self-cleaning mechanism and stainless steel structure enables SFC Screw Press to be the ideal to dewater oily sludge ,which easily causes clogging and is difficult to treat wit other types of dewatering equipments .
SFC Sludge Dehydrator Screw Press application Field

SFC Certification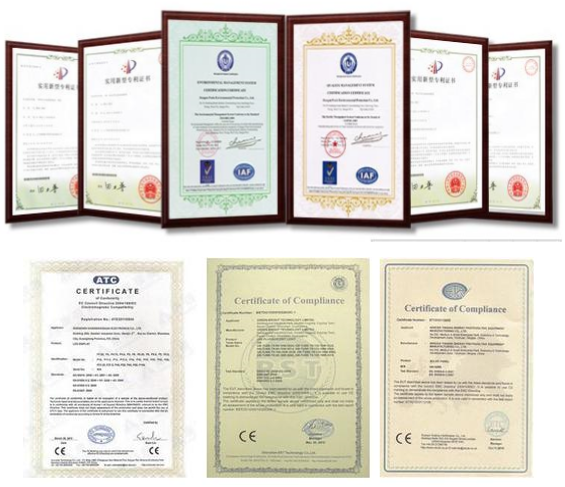 Training and commissioning
SFC Screw Press is easy to installed , vendor should arrange relevant installation information to the Buyer for installation by themselves. If the buyer ask vendor for arranging engineer to operation site for installation and commissioning , kindly refer to the following items:
A. Vendor shall assign engineers to conduct installation and commissioning at Buyer's factory after arrival of equipment at Buyer's site. Buyer shall provide peripheral equipments needed for commissioning. After Buyer issues acceptance certificate, vendor shall provide training to Buyer's operators but Buyer shall not change operators without reason. Normally, it will take 3-5 days for installation and training.
B.During installation and commissioning, Buyer shall make reasonable efforts to assist vendor, provide sufficient human resources, labor and tools as well as necessary accessories and provide accommodation for Seller's installation and test run personnel. Round trip ticket, accommodation and food will be provided by buyer .More than 3 days will be charged USD 260 for one person per day .