Cheap polycarbonate agricultural greenhouse , low cost tunnel plastic for sale commercial green house kits
Seller

Weifang Bitrue I/E Co., Ltd.

Min. Order

100 Square Meter/Square Meters

FOB Price

US $6.5-20 /Square Meter
Product Description
Cheap polycarbonate or plastic greenhouses kits supplies with plan for sale
Hollow glass
Hollow glass is a new building material with good heat and sound insulation, attractive appearance and can reduce the self-weight of the building. Two pieces (or three pieces) of glass are stuck with aluminum frame containing desiccant by high strength and high air tightness binder, and then high-performance noise and heat insulation glass comes into being. Various performance of hollow glass is better than normal double glass. The main material of hollow glass is glass, aluminum spacing bar, corner bolt, butyl rubber, polysulfide and desiccant.
Product characteristics
1. This kind of glass can minimize the energy transmission by radiation to reduce energy loss.
2. The air convection can be reduced.
3.Its good sealing performance ensures the super thermal insulation of hollow glass.
4.It can reduce the cold radiation and prevent condensation, with good safety performance.
1. polycarbonate or plastic greenhouses kits supplies with plan for sale brief Introduction
Glass greenhouse, is mainly covered by glass, which has high translucency, suitable for the
plants of great demanding for sunlight. Among the cultivation facilities, glass greenhouse,
as the facility of longest service life, is fit for many places and nearly all kings of climates.
Heating problems in winter can be solved by many kinds of heating methods. The cost of the
power consumption is modest and mostly accepted. The floor space, material utilization amount
and usage mood can be defined by the designing and demands from clients.
2. Green houses kits Structure and Configuration
1.The skeleton is made by rectangular steel tubes that are cold-rolled, two-sided hot-galvanizing.
2.The greenhouse can be collocated with some necessary systems, such as, inside & outside shading systems,side & roof ventilation system, heating & cooling systems,etc.
3.The covering materials include two kinds of hollow glass. The specifications are 4mm+9mm+4mm and 5mm+6mm+5mm.
4.The inlay materials of glass are the appropriate aluminum alloys and the adhesive tapes are used to tighten the contact area.
3. green houses kits advantages
1.--Attractive modern appearance and strong hanging ability.
2.--Longest service life and good luminousness, suitable for various areas and all kinds of climate conditions.
3.--A variety of heating methods can be taken in winter, and this will reduce the costs.
4.--Good stability, with rain and wind resistance functions, and high automation level.
5.--Blocking water vapor, good aging resistance and anti condensation capacity;
6.--Large light area and uniform interior illumination; spacious, bright and large operation inner space, and high utilization rate.
7.--Strong drainage capacity
4. green house feature
1.Good light transmittance, the transmittance of single layer glass greenhouse up to 90%, the double glazing is 80%
2.Good water proof
3.Anti-age, anti-sweat large area for cultivating
4.Venlo, small roof not only makes the greenhouse beautiful, also provide high efficiency for users
5.Uniform illumination
6.Framework with double-face galvanizing processing, good anticorrosive effect
7.Good Draining ability

5. green house corollary equipment
Heating system (calorifier or water heating); Blind curtain system; Micro fog or water cooling system; CO2complement system; Lighting system; Spray and drip irrigation and fertilization system; Computer integrated control system; Top spray system
6. green houseTechnical parameters
| | | | | | | |
| --- | --- | --- | --- | --- | --- | --- |
| Type | Span (m) | Length (m) | Bay (m) | Width (m) | Shoulder height (m) | Top height (m) |
| V80 | 8 | arbitrary | 4 | 8 | 3~6 | 4.9~6.9 |
| V96 | 9.6 | arbitrary | 4 | 8 | 3~6 | 4.9~6.9 |
| V12 | 12 | arbitrary | 4 | 8 | 3~6 | 4.9~6.9 |
Framework: Double Hot dipped galvanized steel and steel plate
Cladding of Roof: 5mm Tempered Glass
Cladding of Four sides: 4+8(A)+4 Double Glazing

System includes: Natural ventilation, Forced cooling ventilation system, Exterior shading system, interior Energy Saving shading system, Circulation fans, Lighting system, Heating system, etc.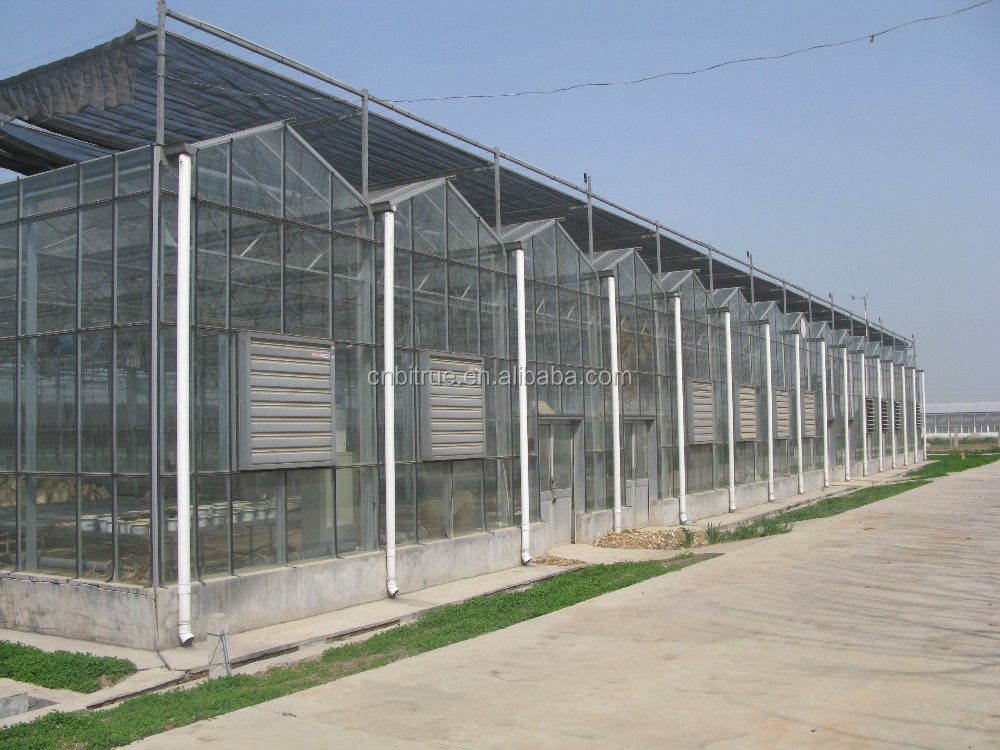 7. glass greenhouse Covering
1) Shading system
Internal shading (insulation) system
System function
Shading; Heat preservation; Condensation preventing; Permeability
System characteristics
This system can adjust the light to improve the indoor environment.
In summer, when indoor temperature rises to a certain value, the shading system will diffuse the sunlight into the interior according to the principle of different shading rate can reflect some sunlight to decrease the temperature. The shading and insulating curtain will be opened to decrease the indoor temperature by 4℃~6℃.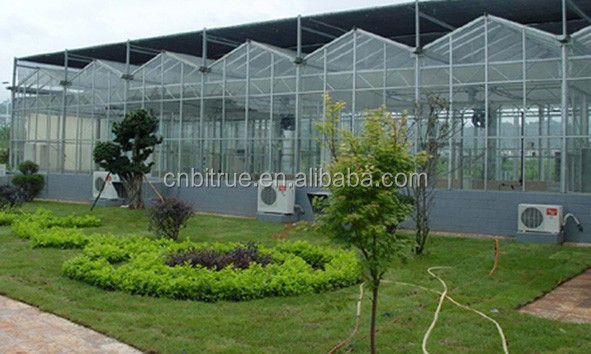 2)Cooling Pad & Fan system

3)Auto-enviroment controlling system
4)Irrigation system


5)Heating system

8.Other types of Glasshouse or Polytunnels greenhouse