Electrical equipment supplies 1A 1000v dc power supply
Seller

Yucoo Network Equipment Co., Limited

Min. Order

1 Piece/Pieces

FOB Price

US $300-450 /Piece
Product Description
YUCOO NETWORK EQUIPMENT CO.,LT
Electrical equipment supplies 1A 1000v dc power supply
What are specification of 1A 1000v dc power supply?
Model

YK-AD10001

Test Item

Performance Parameter

AC wide input

1phase AC220V±15% 50/60Hz

Output range

Constant voltage 0~1000V (or appointed) variable/adjustable
Constant current 0~1A (or appointed ) variable/adjustable

Power

Max 1000W

Source Voltage Regulation

constant voltage ≤0.2%

Load Regulation

constant voltage ≤1%; constant current≤2%

Line regulation:

constant voltage ≤0.3%

Ripple Voltage

total ripple Vpp≤2% (max voltage)(60V*2%=1.2V)
100Hz Ripple: Vpp≤0.5%(max voltage)(60V*0.5%=0.3V)

Operation Environment temperature

(-10~45)°C

Efficiency

≥89%

Digital meter

voltage meter and current meter

Digital display

Precision of output voltage±1.5%
Precision of output current±2.0%

Insulating resistance

Input-Output:≥20MΩ

Input— Shell:≥20MΩ

Output-Shell:≥80MΩ

Insulating Strength

Input-Output:AC1500V,10mA,1minute

Input— Shell:AC1500V,10mA,1minute

Output-Shell:AC1500V,10mA,1minute

Imbalance of equalized current

≤5%+2.5A

Protection

Temperature control fan, over-temperature automatic protection; output overvoltage, over-current and short-circuit protection; switch-on delay soft starting can avoid the over swung output voltage when switching on.

over-temperature protection

(70~80)°C

MTTF

≥50000h

External dimension

253*268*68mm

Net Weight

5kg
Pictures show 1A 1000v dc power supply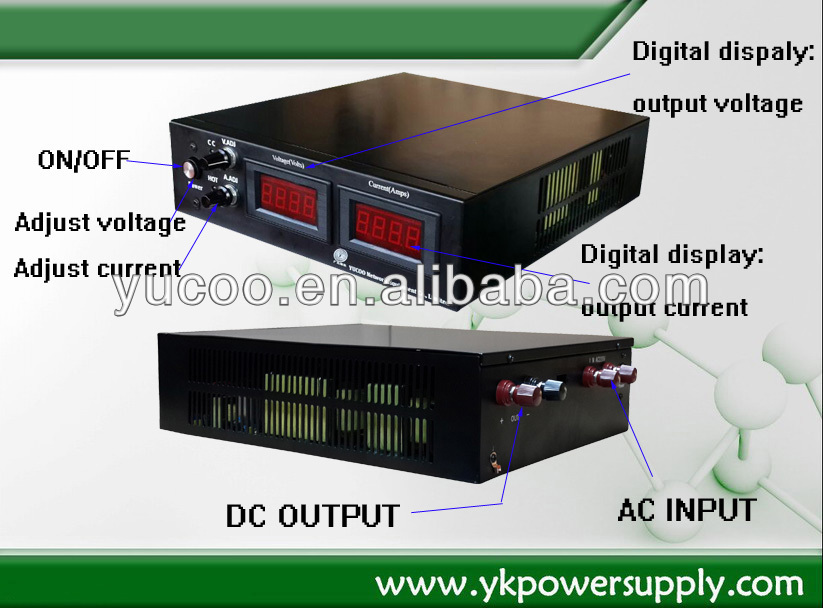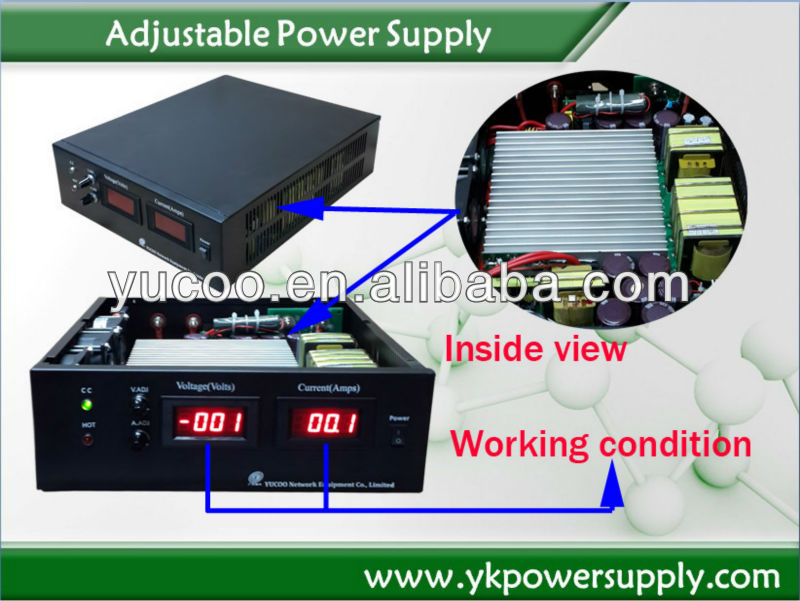 Adjustable FAQ
Question: What is your model definition for adjustable dc power supply
Answer:
Model YK-AD XXXYYY
YK—YUCOO
AD—AC to DC
XXX: max output voltage: 3 digits or 2 digits, Unit: V
YYY: max output current: 3 digits or 2 digits, Unit: A
Question :What fileds does the adjustable power supply mainly used?
Answer: It is widely used in electric power dc screen system, engineering control, communication,
scientific research, battery, agriculture and other equipment.
Question:Can you customize the double channel output or the multi-channels output?
Answer:
1. For now, we Yucoo can only make the double output, and the unit price will be 150USD more than
the same model that come put with one channel, and size will be also different.
2. Please come to the sales ask for more information.
Question : Does Positive and negative output can switch in auto or manual? If yes, what is the Switching
interval time ? is it control by a switch or by time relay ?
Answer:
1. It is control by time relay in auto
2. The buyer should be confirm to us before purchase for how long you want to switch
3. For example, if you want to switch Positive and negative output 1s. then we can set it before factory
Question:Can do the adjustable power supply with high voltage but small current ?
Answer: Yes.We can customize the voltage specification according to customer's request.
About us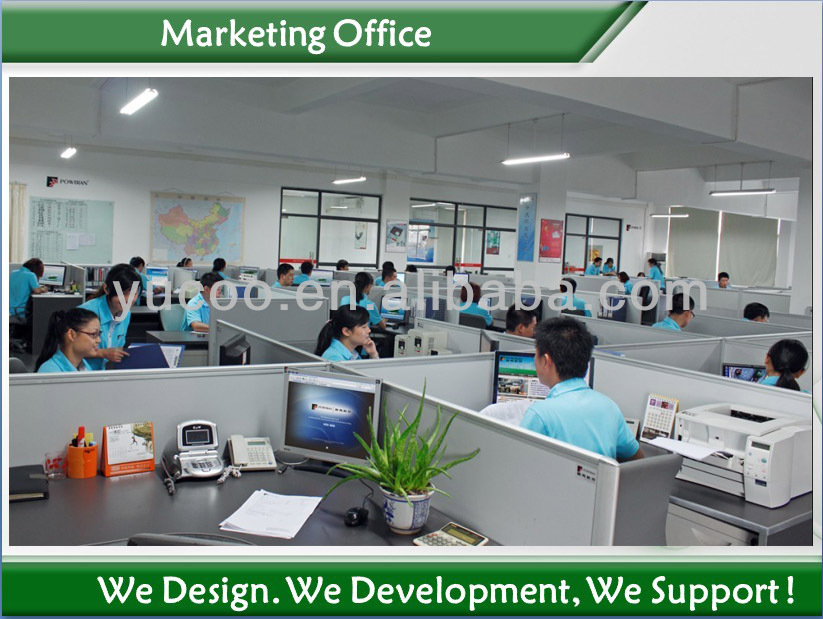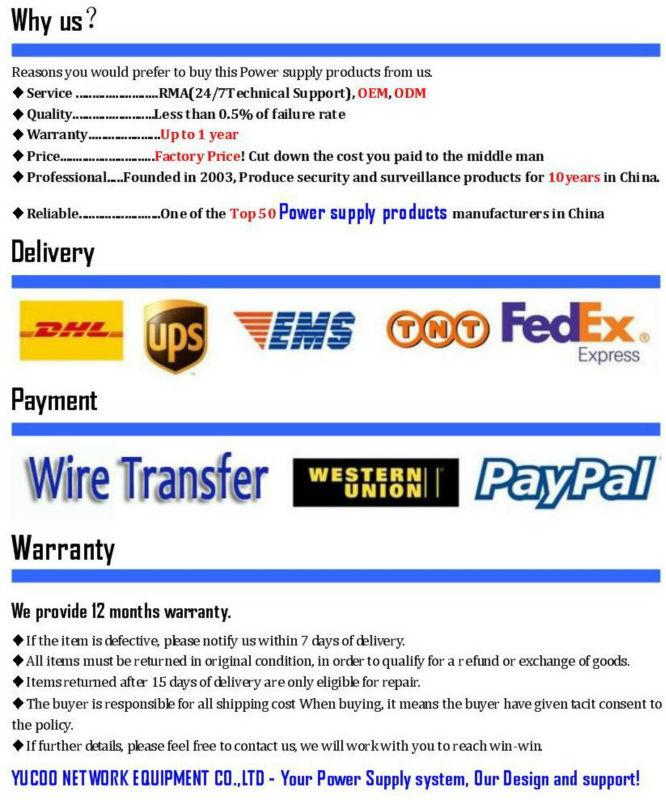 Send your inquire details in the below,Click "Send" now!